Alt-title: Things to Do in Schitt's Creek During Single's Week
Schitt's Creek is among our favorite small towns in Ontario. The community is open and welcome to newcomers and the downtown area is bustling with new businesses. Schitt's Creek is putting small towns on the map as the go-to location for latest trends, the sweetest cinnamon rolls, or your new love interest!
As you prepare to visit the town for their annual Single's Week, let us share with you some of our favorite spots.
Where to Stay
The best and only place to stay in Schitt's Creek is the Rosebud Motel. Recently renamed and under newish management, it boasts no amenities. What is lacks in a pool and laundry service it makes up for with award-winning customer service and a drying line for your self-service laundry. They also have 100% Egyptian cotton towels monogrammed with the hotel's initials in red—adorable!—and the complimentary toiletries come from Rose Apothecary. Rosebud Motel's location in the center of town makes it an ideal place to stay for single's week. A booking there will ensure that you are walking distance from all of the main events, including the highly anticipated "Love is Messy Sloppy Joe Eat-a-thon. There are only seven rooms, so make sure you book your stay early!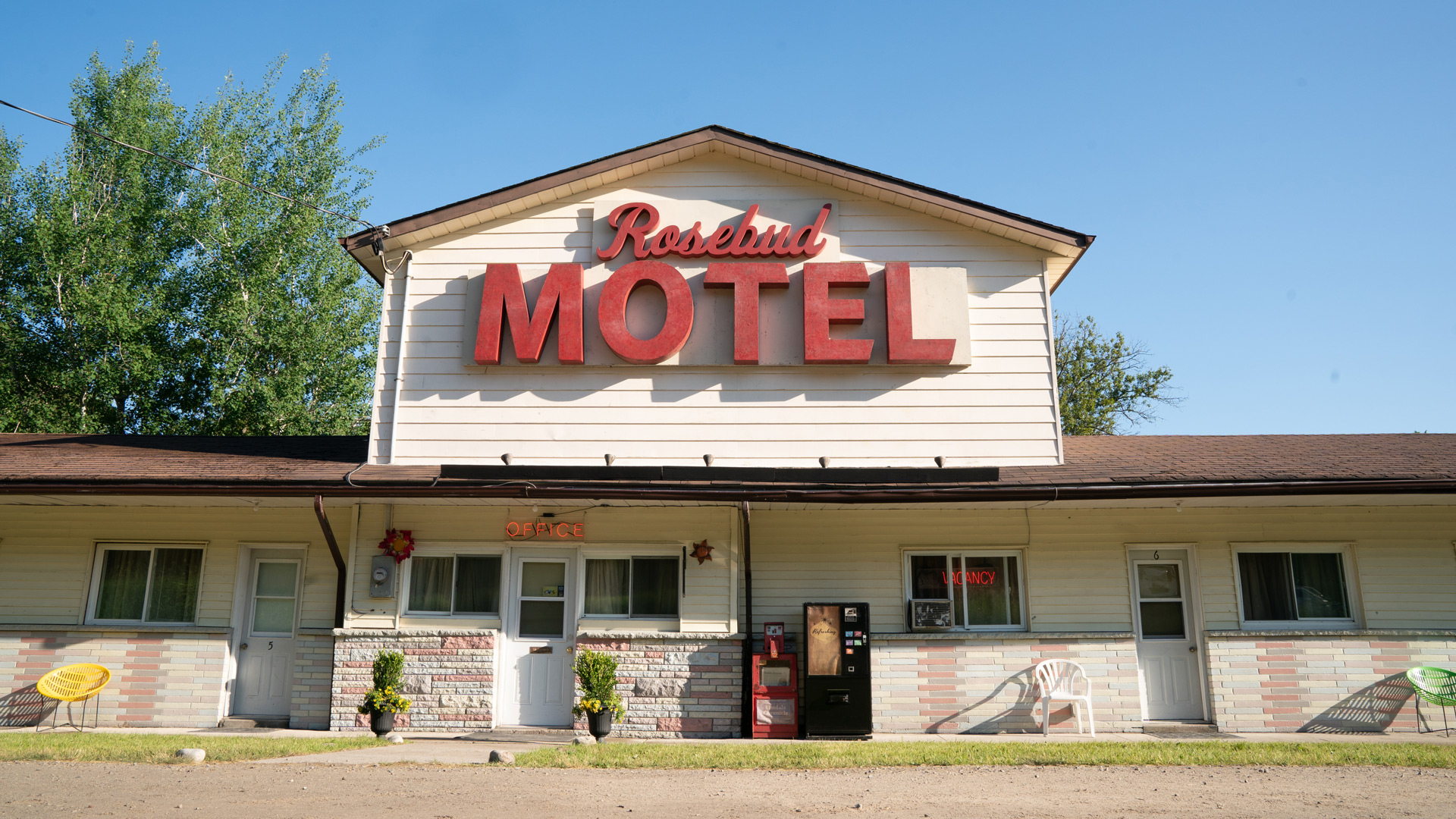 Where to Eat
Also located in the center of town, Café Tropical has a wide selection of entrees to fit any budget or food preference. With a 20 page menu, it seems that the extremely versatile chef has no specialties. As any foodie would know, this cuts both ways. For breakfast, the cinnamon buns are the best choice—they are fresh baked daily by local baker and quarry worker Ivan who delivers them by hand every morning. Lunch and dinner fare includes a rotating menu of daily specials. One such special Meatloaf Tuesdays, comes highly recommended by local businessman and manager of Rosebud Motel, Johnny Rose. His favorite menu item is another carnal dish; he reminded us several times, "Don't forget to try the brisket. It's lovely."
At Café Tropical, the food is hot and will keep your stamina up for the busy week. However you won't want to try to eat while on-the-go. Mutt Schitt warned us against trying the smoothies, so you'll want to order another drink, like a coffee or tea. Also, as the only sit-down place in town, meal times can be busy. There are no reservations during Singles' Week, so plan your meals accordingly.
Where to Shop
Rose Apothcary is your go-to destination for locally-sourced, wild-crafted, spa-quality beauty products and seasonal gifts. Working with local farmers and artisans allows them to sell unique gifts and beauty products all-year round. Our favorite aspect of this store is the seasonally rotating products. Owner David Rose even stocks items exclusively for Singles' Week. You'll want to get some patchouli rose scented massage oil before they sell out. "We stock this for those singles who plain to get lucky," David Rose told us with a wink and a smile.
His partner, Patrick, marvels at the items, which also include a glossy scented lip balm, tasteful edible undies, and an array of condoms. "We sell out every year. David must be some kind of oracle or something."
"It's a gift," David quips.
The store also sells locally grown produce, home-grown kombucha, and specialty goat's cheese from Warner's Farm. The cheese is to die for, but you don't want to lose your date over it. Pack some in the cooler to take with you or ask about overnight shipping, as the cheese, like many items in the store, is sold exclusively at Rose Apothecary.
A Thing to Do
Singles' Week! It'll keep you busy.
But if you're visiting outside of the annual event, or you and your hook-up want to look cute and get back to Nature, check out The Moira's Rose's Garden. It is a tulip and lily filled garden named for local celebrity and former daytime television star Moira Rose's rose collection. Well, that's the grammar anyway. The story behind the name is a local secret. When asked, Mrs. Rose would only say, "It's no theater at UCLA, but it's touching to have something so beautiful named for oneself."
Another Thing to Do
Take a picture with the town sign. The "Welcome to Schitt's Creek" is legendary. It features a man and woman dressed in 19th century clothing. The woman bends over to get water from a little puddle of water, assumedly the town's eponymous and mythical creek, with her dress pulled up above her knee. A red-breaded man in a brown jacket and black pants stands behind her, frontside to backside. They both wear an expression that can only mean they are getting lucky. Single's week lucky. The town's motto emblazoned across the sign as well: "Where everyone fits in!"
In any case, visiting the sign is a perfect photo op for documenting your single's week visit. Plus, you have to see it to believe it.
Local mayor, Roland Schitt, takes pride in the sign. "That's my great-grandfather up there, Horace Schitt. He was a visionary…He discovered this land, he developed it, and turned it into the little slice of heaven that it is. I'm proud of him."
When questioned about the sexual implications of the sign, Mr. Schitt was incredulous. "That isn't even Horace's wife! It's his sister…I don't know how they do things where you come from, but around these parts, we don't do that sort of thing with our sisters. That's why I added the sign, to explain. It's not sexual, he's holding on to her to keep her from falling into the creek."
He explained this to us with a straight face, so we'll take his word for it.
In any case, visiting the sign is a perfect photo for documenting your single's week visit, plus you have to see it to believe it. Bonus points if you score a photo with a new lover.
Schitt's Creek is about 2 miles from end to end, and with a minimum speed limit of 50 kilometers per hour, you might blow right through the little town. You might be mad if you did, as the SC, as we like to call it, is up and coming. Teeny Town Times rated it number one on their list of top small towns in North America. So if you have the time, stop by the cafe, which does have really good brisket; or shop for unique gifts at Rose Apothecary.
Whatever you do, don't bother searching for the creek. We never found it.
---
I've been watching a lot of Schitt's Creek and thought it would be fun to write a snarky travel guide, but it became even more fun to write a mostly sweet one, which is a better reflection of the show's tone by about season five. Most of the quotes a made up, but I pulled Roland's directly from the show and combined it with something Ray said; both quotes are from season one, episode three. The rest is my writing in the mind of the show.